HISTORY


Back in 1739 when the first Spanish settlement was founded in Valencia County, Benjamin Franklin was busy back east with his newspaper.
Of course, the history of Valencia County goes back so much further than that. Isleta was a bustling pueblo in 1598 when the first Spanish missionaries arrived in the area.
There are signs of other settlements in places such as Pueblitos and there are new archeological sites discovered every few years. One was reported to authorities in Rio Communities in 1999.
History is written on the very rocks of Valencia County - petroglyphs found along Tome Hill, where there are also signs of an ancient Anasazi Settlement. The Spanish, too, climbed the hill to look all up and down the river valley. They settled cozily at the foot of the hill.
The cast of characters includes farmers and merchants, railroaders and homemakers, rodeo riders and fence menders, lawyers and millionaires, teachers and travellers, lieutenant governors and sheep herders.
With the coming of the Americans in 1846, immigrants began to stream into the area and develop Valencia County as a mercantile center with a trade base extending west to the Arizona line and east to the Estancia Valley.
By 1878, the railroad had entered the New Mexico Territory. By 1880, the Atchison, Topeka and Santa Fe Railroad had built the track as far south as Valencia County but since it was only a whistle stop, the addition of new industry made only a ripple in the economy and the community remained largely agricultural.
When the railroad entered New Mexico in 1878, it had to move through the Raton Pass, which, due to its 7000 feet elevation, required two to three large engines. Consequently, the Belen Cut-off was built. This cut-off went through Kansas and Oklahoma and westward into the plains of Texas and New Mexico. It skirted the Manzano Mountains and entered Valencia County in 1908. Since the cut-off was built, all transcontinental freight trains go through this county to refuel and change crews.
The cut-off brought new businessmen and ideas to our county. The population exploded. Schools and churches were built and the present day town began to develop.
The community today is a blend of its strong Hispanic heritage and its newer Anglo influence.


AIRPORT


With the incredible blue skies in New Mexico and its near-perfect weather, how could any pilot not appreciate what a wonderful idea it would be to take flight?
In Valencia County, that's certainly possible. The Belen Neel Alexander Municipal Airport has recently expanded and is fast gaining a reputation as a great place to land, near the big city but without its busy airways.
And, in Los Chavez, there's the MidValley Air Park. It's unique because the surrounding homes boast hangars for their private planes, something similar to a garage.
The Belen Airport - named after a former mayor - has been open since 1979.
"We're 6,600 feet long by 60 feet wide and we have full parallel taxiways." said Airport Manager Mike Garcia. "We currently have three businesses operating on the airport. They're fixed base operators and they provide fuel and pilot training. We even have a little cafe at the airport." About 30 aircraft are based there.
A propellor shop which does all the installing of propellers and repitching them - one of only a few in the southwest - brings in a lot of business, Garcia said.
"We get, on a regular basis, small Cessnas...and Beechcraft. We have occasional Lear Jets, Falcon 50s like a Lear Jet. We get a large King Air, a Beechcraft, that's about a 10 to 12 passenger airplane."
Most of the planes based in Belen are owned by people in Albuquerque. "They like to because we're not congested and we are kind of a wide-open place - no clutter- and it's a real safe place to use an airplane," Garcia said, "We get a lot of training. They come here to do touch and goes and flight training due to the fact there's not a lot of congestion like over Albuquerque International Airport.
"They feel safe. Our runways are nice and long - 6,600 feet is plenty long for these small Cessnas."
Last year, the airport installed an all new electrical value and beacon. A vault is a control that operates the electrical lights on a rotating beacon. "It's kind of like a lighthouse is for a ship; it's a beacon for aircraft," Garcia said.
New hangars are also going to be put up, about three of them in the next six months. They'll be for aircraft storage and small businesses.
"Last year, we did a half million dollars to our taxiways and to improve the areas for hangars. It was done through federal, state and local funds," Garcia said.
He said that the airport is sort of a gateway to the Belen area. "We're starting to see a lot more traffic and even cross country traffic. They tend to fuel here rather than going into a congested airport. We get people from just about everywhere, Canada, everywhere," he said. "Aviation kind of took a dip at one point, but it's on the rebound. A lot of people are using airport for business, for traveling."
A typical day finds an average of about 20 plans coming in and out. These days, people are using airplanes for pleasure jaunts. Someone from, say, Truth or Consequences, might fly up to Belen, land and have lunch. "We call it the $100 hamburger," Garcia said.
The airport has charter pilot flights as well as flight instructors. "They'll take them on introductory flights and what have you," he said.
The Belen airport's safety record is impress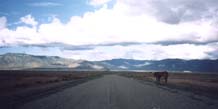 ive. "We haven't had any fatalities here in 20 years. That is a good record. We're kind of proud of that," Garcia said.
He predicts the airport will get bigger. "We get a lot of military flyovers and helicopter traffic from the base (Kirtland in Albuquerque). It's an interesting place. On weekends, you can watch aircraft come and go. On Saturdays, when the air is calm, aircraft owners from all over the state go for a ride. They've got unusual experimental aircraft and home-built. We've got one aircraft that looks like they're flying backwards - it's got little winglets in front. Instead of a propellor in front, it's in back. It pushes instead of pulls."
The airport has begun an annual air show the second week in September. "We'll probably do that again this year. Last year, we had a great air show. We probably had 2,000 people come and see the events. We had about 130 aircraft come from the state, Arizona, Texas," he said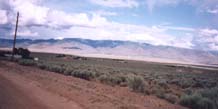 An old T-38 World War II aircraft did a 40-minute show that Garcia terms spectacular. "We had three Jolly Green Giant military helicopters come in and let the kids crawl all over them,' he said. "All day long, they took kids for rides over the valley to get them interested. I've never seen so many smiling, red-faced kids in my life.


CHILE


Two main factors seem to impact the market for chile in New Mexico - the weather and the presence of Mexico south of the border.
Los Lunas chile farmer David Chavez knows nothing can be done about the weather. But he's concerned about what he calls "the long fingers of NAFTA" intruding into New Mexico's chile market.
The North American Free Trade Agreement (NAFTA) was intended to open up trade between the United States and its neighbors. But Chavez said he fears NAFTA will choke out New Mexico chile farmers because labor is so cheap south of the border and "there are hundreds and hundreds of miles of prime farm land along the river" in Mexico.
Frank Holguin, county program director and agricultural agent for New Mexico State University's Cooperative Extension Service, has a different take. He doesn't blame NAFTA but does see Mexico taking a share of New Mexico's chile market.
"Mexico is taking a big chunk of our chile because they don't have the costs and regulations for pesticide use we have up here," he said.
Holguin estimated New Mexico has lost about 10 percent of its production to Mexico in recent years. He sees more commercial contracts for chile going south because it can be produced cheaper in Mexico.
But he warns against New Mexican chile farmers panicking. In order to retain their share of the market, they must continue through good years and bad. "As soon as we start hesitating planting these fields as chile, Mexico picks up on that slack," Holguin said, "They've been very vigilant."
Holguin said aside from commercial contracts, he suspects Mexican chile was being sold as New Mexican chile at some roadside stands. "What's selling for eight to ten dollars a sack, probably is not New Mexico chile," he said. "People buying chile have to decide, do they want New Mexico chile?"
The Chavez Farm in Los Lunas sold its chile for $17 a sack this year. Holguin said prices typically varied between $18 and $28 per sack in Valencia County.
The other threat to the chile market is the weather. Holguin said the 1999 crop got off to a late start. Cool temperatures in the spring impeded the germination process for the seeds. "July was not as hot so we saw a relatively mild summer and chile likes it hot," he said. "Then August came around and we started seeing the rain and wilt problems."
The weather conditions brought on more pest and disease problems than in the past years, he said. Curly tip, mosaic virus known as white leaf, and spotted wilt virus were the diseases that posed the biggest threat to farmers.
As a result, Holguin said in September he expected this year's crop to be about 70 percent of normal throughout the state and that Valencia County's production was in line with the state average. He rated this year's crop as ranging from poor to excellent.
"It really varies from field to field," he said.


THE RAILS


On the prairie mesa west of Belen, a train making its way long the horizon is a common sight.
Belen has been a railroad town since the days of steam engines. As diesel engines replaced steam in the late 1950s many railroad fueling stops were closed. The Belen rail yard survived and today it is one of the top six terminals in the Burlington Northern & Santa Fe Railroad system.
"It's the busiest terminal in the southern corridor," said Mark Gwinn, terminal superintendent. The southern corridor are trains traveling from Chicago to Los Angeles.
The stopped train, with the long line of railroad cars, on the west mesa is waiting its turn at the fuel pump. It is one of 86 to 95 which are refueled in Belen daily.
"An engine holds 2,500 to 5,500 gallons of fuel," Gwinn said. "The number of engines used to pull a train depends on the total weight of the train." That weight is determined by the number of cars and the content of the container or trailer on the flatbed car. A typical train has between 120 to 122 cars which cover from 6,500 to 8,100 feet, or one-and-a-half miles.
A good rule of thumb as to how many cars are following the engines is if there are four engines there is usually 80 cars.
The next fuel stop for trains passing through Belen is either Richmond, California, or Kansas City. "The engines will usually have about 800 gallons remaining when they get to the next fuel station," he said.
Besides refueling in Belen, crews are changed. "We have between 338 and 350 employees, depending on the season, working out of this terminal," Gwinn said.
The peak season for railroad freight is driven by United Parcel Service and other big carriers during the Christmas rush. "We are the biggest transportation railroad that handles UPS," said Gwinn.
"We can cover the same territory just as fast as the road freight, but we can move larger volume," Gwinn said of UPS using rail to move freight long distances.
"We are very, very busy. There's a lot of freight of all kinds from cars to catalogues to breakfast cereal that go by rail," he said.
There are two types of rail cars - box cars and flatbeds. Belen residents mainly see flatbeds rumbling through town. The flatbeds carry either trailers from road freight companies, or containers.
"The containers are ship to ship loads," Gwinn said. "They are on their way to Europe." These containers are picked up at the Port of Long Beach in California and end up at the Port of New York City where they are loaded onto a ship and sent on to Europe.
As trains rumble by the crossing guard, memories of stories about hobos may come to mind. The southern corridor doesn't have the stow-away riders as elsewhere because of the flatbed cars.
"Up north where box cars are used, there still are a lot," Gwinn said of the rail riders. "There are two types, the traditional hobo - traveling gypsy - and the modern day fad riders. "The new ones are doing it because it is a fad. They are usually professional people, that ride the rail for a weekend."
However, riding the rail is still illegal. The railroad company's main concern is the danger of riders falling under the wheels. So the company will arrest people hitching a ride if the yard patrol catches them.
Many railroad buffs travel to Belen to watch the trains. While there is no observation deck in the railyard to watch the fueling, visitors may watch the yard action from the porch of the Harvey House Museum adjacent to the railyard.
Photograph opportunities may be done from atop the overpass which takes traffic over the tracks on Reinken Avenue, or the Interstate 25 overpass west of town. Also southeast of Belen there are scenic photo opportunities as the trains snake their way through the Manzano Mountains.


VALENCIA COUNTY
GOVERNMENT NUMBERS


Area Code is 505
| | | | | | |
| --- | --- | --- | --- | --- | --- |
| Accounts Payable | 866-2030 | Indigent Office | 866-2020 | Del Rio Senior Center | 864-7500 |
| Adult Detention (jail) | 866-2435 | Insurance | 866-2020 | Meadow Lake Center | 865-8824 |
| Animal Control | 866-2479 | Payroll | 866-2005 | Bosque Farms Center | 869-5133 |
| Assessor | 866-2065 | Planning & Zoning | 866-2050 | El Cerro Community Center | 866-5379 |
| Building Permit Office | 866-2042 | Purchasing Office | 866-2032 | | |
| Bureau of Elections | 866-2080 | Road Department | 866-2473 | Cooperative Extension Service | 865-9561 |
| Clerk | 866-2073 | Sheriff (non-emergency) | 866-2460 | Home Economist | 865-9561 |
| County Commission Office | 866-2003 | Transfer Station (Landfill) | 565-2256 | 4-H Agent | 865-9792 |
| County Manager | 866-2001 | Treasurer | 866-2090 | | |
| Data Processing | 866-2072 | | | District Court Clerk | 865-4639 |
| Fire Marshall Office | 866-2040 | | | Juvenile Detention Center | 865-6271 |
| Fiscal Agent | 866-2020 | Senior Citizens Programs | | Juvenile Probation Department | 565-3380 |
| Human Resources Manager | 866-2021 | Belen Senior Center | 864-6739 | | |


BE THANKFUL


There is so much to be thankful for in Valencia County.
First of all, there is the people. You won't find a more loyal group, people who'll hug you when you meet on the street, who'll bring you green chile - it's high in Vitamin C - when you're sick, and who'll be there for you when tragedy strikes.
They'll show you how to rake hay if you buy a farm. They'll regale you with stories about history and then, seamlessly, turn around and tell you about their grandson who flies jets in the Air Force.
They're witty and ingenious - witness the invention of the chile roaster, created out of a mesh barrel and propane burner. They're home-loving and well traveled. They know what they have and they're proud to share it, especially with those who are as much in love with it as they are.
New Mexicans are thankful for the big river - the Rio Grande - that meanders down southward from Colorado, feeding the fields and the people. Some visitors don't appreciate the amount of of water that the river contains because they don't see it. The lifegiving water is diverted in to a complex system of irrigation canals that bring it to the field all up and down the valley. The Rio Grande is a hard-working river.
We're thankful for the sky that is a constant source of wonder. We have a guaranteed light show almost every morning and evening as the sun rises and sets. Scientists say the amazing pinks and oranges are a products of the dust particles in the air; we say what our dust!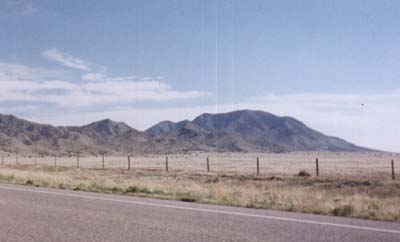 October skies are the most amazing, almost navy blue you've ever seen. Summer thunderstorms are beautiful and sweeping. The flat bottomed clouds look like the stylized ones you can see on ancient Anasazi pottery.
We're thankful for our green alfalfa fields and the way the hay smells when it's cut.
We're grateful for green chile and its perfume across the valley when it's roasting. And we give equal time to red chile, the way it looks when hanging in ristras along the rooflines of a house and the way it tastes in a pot of beans or carne adovada.
We're thankful for snow in winter and how it frosts the houses and fields, but melts before you get tired of it.
We're grateful for our history and the characters who make it unique in the nation: Coronado, Estevan, Geronimo, Billy the Kid, Elfego Baca, Georgia O'keeffe. That's just a few that would fit in a story of this length. New Mexico's history is endlessly fascinating, with mysteries and colorful tales, Buffalo Soldiers and fearless women, cowboys and Native Americans, rodeo riders and colcha embroiderers, potters and oil men, farmers and merchants. Their descendants are still here, working together, living together, writing the latest pages in the history of this unique land.
The rest of the world may not know much about New Mexico - that state's official magazine includes a monthly column called "One of Our 50 States is Missing" which deals with the constant battle not to be thought of as a foreign land. But we know who we are - in our spot between Texas and Arizona - and we're proud of it.
So, come on down for Thanksgiving. And don't be amazed if you discover green chile on the table.
Portions of the material throughout this website were taken directly from the Valencia County Visitors Guide. Our sole purpose is the promotion of Valencia County and no other intentions are expressed or implied.